Member
Posts: 228
Joined: Sat Jan 20, 2007 10:25 am
Location: Copenhagen, Denmark
Thu Apr 01, 2010 12:55 am
Occasionally in Hauptwerk forum we see people – professionals and hobbyists – who have great interests on one hand in flying and aeroplanes and on the other hand in organ music and organs.
Really news can at first appear unbelievable and be met with scepticism. Nevertheless, it is a great pleasure to have the opportunity to announce, that from today it isn't necessary for those of our friends to distinguish between the passions, and there is no need to divide oneself and ones time any more.
Organ Airlines has in an unquestionable epoch-making and exceptional innovative way made it possible to combine the two interests and professions. The company, that is known for creative thinking and to be at the forefront of development, has engineered a genius and nearly perfect total integration as unveiled by a published photo from the cockpit of the remarkable although still prototype machine Organ Airliner model OA1.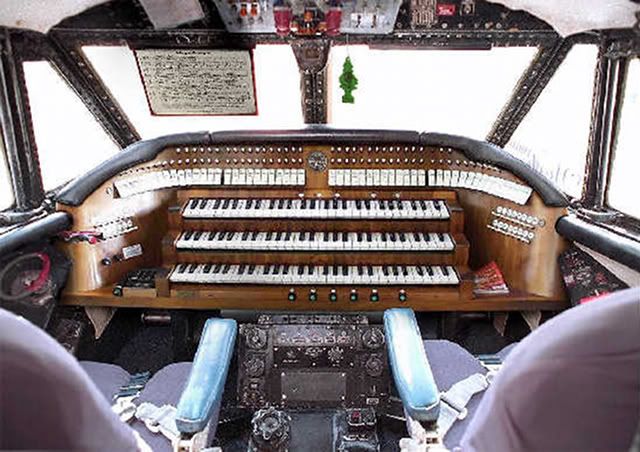 Precisely like many other pioneer innovations, when we once have seen this picture, the fusion seems so obvious, that we can wonder why no one have thought of it and realized it a long time ago.
According to report Organ Airlines will make it possible to reserve tickets both for destinations and repertoires and expects this special service to be a strong and outstanding competition parameter in future.
As a necessary consequence to show consideration for the passengers/audiences sense of musical aesthetics in-service training programs is planned for pilots in organ playing and of safety reasons for organists in flying as well.
People who already have had the chance to experience an Organ Airliner tell concordant, that it definitely elevates the organ and organ music to a higher level.
Still, as a shrewd viewer may have noticed, some few minor technical details remain regarding integration of a pedalboard to achieve a completely melting together. However the Organ Airlines public relations officer declares: "We are at the beginning of a new era in flight and organ history. Far-sighted the OA1 was from the very start prepared for improvements." And surprisingly frankly he reveals that the engineers work seriously and very hard to accomplish the pedalboard integration, and Organ Airlines plan is to have this task finished in model OA2 and realistically hope to be able to introduce it as soon as in a year from today the 1th of April 2011.
Experiencing an Organ Airliner and speechless of the tremendous human ingenuity, at the moment our impressions can be summarized in one single comment; only imagination sets the limits of possibility, and fantasy is boundless.
Take care and have a nice day.
Johannes
---------------------------------------------------------------------------------------------------------------------------------------------------------
P.S. Long ago an image file named organ-airliner cockpit was found on the internet, public domain I think, and the idea was given.