dw154515 wrote:I have two (make that 3

) other pedalboards in the garage - 2 Allen's that have these contacts, and one old Wurlitzer - but off hand I don't know what the contacts are on the Wurlitzer. Do these things have much trouble with oxidation or dirt/grime?
There have been reports that this style of contact doesn't work well with the small voltages and currents present in 3.3 or 5 volt MIDI encoders. Some folks have used a 'contact wetting' circuit to increase the current flow to help keep the contacts clean. The MIDI Boutique encoders I use have the option to use 12 volts and I've done several this way without issues. Should problems arise it's pretty straight-forward to hit the wires with contact cleaner.
And how do these work? I'm assuming 1 or 2 wires for common and the rest are tied together?
Yes, here's a picture from my write-up on converting an Allen pedalbord: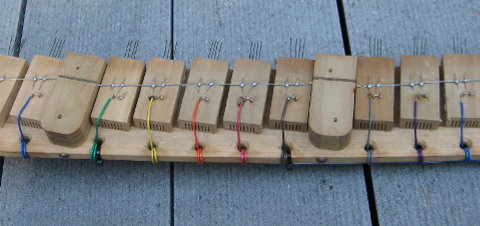 (full write-up here:
Allen pedalboard MIDIfication
)
---john.