Member
Posts: 1112
Joined: Wed Jan 06, 2010 8:53 am
Location: La Rochelle, France
Mon Dec 17, 2012 1:17 am
As I recently changed my Hauptwerk dedicated Mac Mini, I just wanted to share with you the results in terms of performance.
Main hardware changes are concerning the processor (from Intel Core 2 Duo 2.53 Ghz to a i7 Quad Core 2.3 Ghz which is according to Apple making it twice as powerful), RAM (from8 GB @ 1067 MHz to 16 GO @ 1600 MHz) and Hard Drive where the sluggish Hitachi 320 GB @ 5400 RPM has been replaced by a SSD of 256 GB.
As a result, Hauptwerk is completely different. I could re-load several instruments with higher resolution (Saint-Maximin from 16 to 20 bit, Saint-Michel-en-Thiérache from 20 to 24 bit), or make less "sacrifice" on other ones (Kampen and Caen fully loaded without affecting attacks or releases). As far as sound quality is concerned, gain is quite significant, especially for St. Maximin where reeds used to sound in a very unnatural way in 16 bit. At 20 bit, I feel as if listening to a good CD - excepted for the level of interpretation, for which Apple and Hauptwerk cannot do anything for me...
I'm sharing heare-after a small table summarising the changes. As I was curious to estimate the gain I could get with higher RAM and SSD use before installing the new machine, it might be of interest to other Hauptwerkians to see how it looks like in reality.
I detailed for each instrument the RAM used (as per Hauptwerk - mentioning the remaining space - and per IStats - mentioning the used space). Second column is for the loading speed - monitored with a chrono - each time checked on a fresh session. Settings are then detailed in "Resolution"; "Load all A-L-R" means all attacks, loops and release are loaded.
As a result, when loading the Mietke Harpsichord - only important instrument I could and I can load in the same way on the two machines - loading time has been divided by 4. Saint-Michel-en-Thiérache had been divided by 3 despite a load on RAM twice as big as before.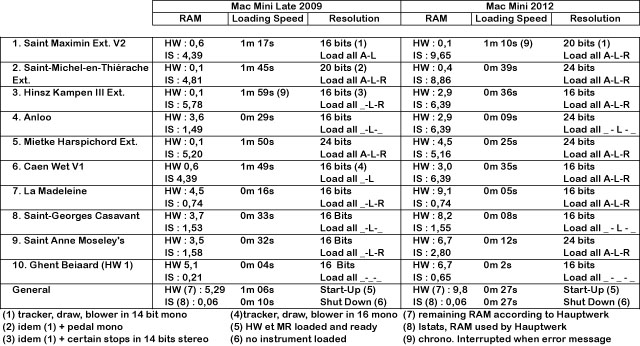 The only issue I have met so far concerns the Kampen, where I have a strange noise appearing on the Rugwerk. I expect to find a solution soon - hopefully, as it is one of my favourite instruments...