A while ago I posted a picture taken a year ago of my 3-manual console built on an Ikea Galant table. Back then it used two monitors and four launchpads. I've just made some changes, necessitated by the demise of the left monitor.
Here again is the first shot, dating from February last year, with the Silver Octopus Studio Willis 80 on the screens and launchpad overlays. Only the front launchpad on each side was used for this sample set.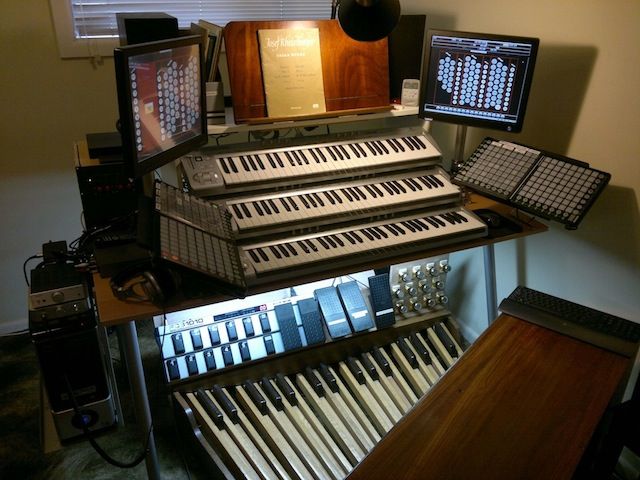 Now here it is following last night's modifications. I've removed the failed monitor, and relocated the double launchpad array to the upper level of the Atdec supports where the monitor used to be. It is now absolutely rock solid. I then did the same with the other side, and placed the remaining monitor down low on the laptop tray which previously supported the two launchpads. On the left, on another laptop tray, I've added a fifth launchpad plus a Korg nanoKey unit mounted vertically.
The intention behind all those launchpads is to provide - mainly - for the Paramount 450. When completed, the overlays will put all speaking stops on the square buttons. The Korg unit is intended for non-tonal percussions. The round buttons are for a range of non-speaking functions such as couplers, plus Hauptwerk functions such as sequencer, organ loading, recording control, organ shutdown, audio engine restart and the like.
Watch this space later in the year (perhaps much later, as there's lots yet to do) for when the new 4-manual keyboard stack currently being made for me replaces the three Behringer keyboards.
I envy those who have the skills, tools and time to build wonderful woodwork-style consoles. Mine is modular, off the shelf, easily dismantled if need be for moving, and has the flexibility for making changes from time to time as needed. It's the kind of approach which suits a non-carpenter like myself. Perhaps other console-builders will benefit from seeing this effort.
Salisbury is on the screen. It takes up just two launchpads with its overlays, and even then there's room to spare which allows for flexibility in layout.
Andrew