Here are a couple of photos of our latest project, a rebuilt Moller console for use with Hauptwerk. Oh, and we kept the rest of the organ as well! This is now a hybrid instrument but with the additional feature that the console and HW features can be used independently of the rest of the pipe organ.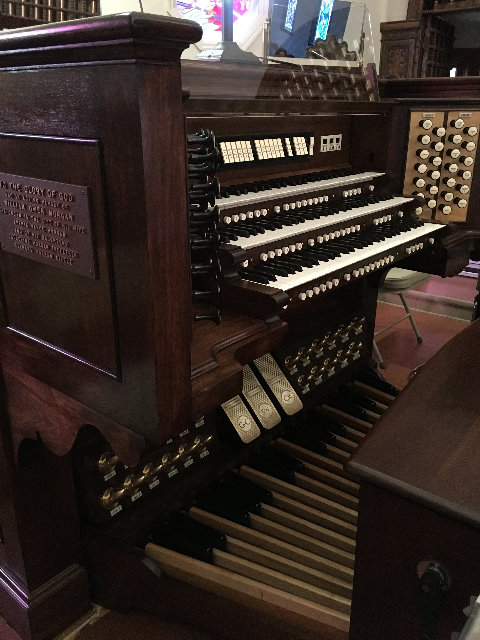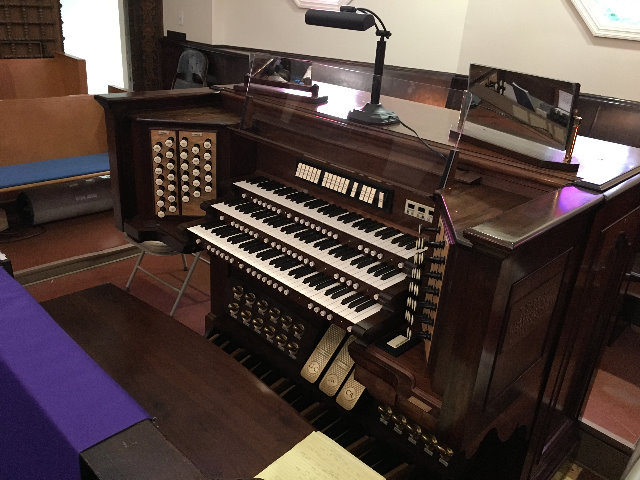 The organist really, really likes brass so we accommodated him!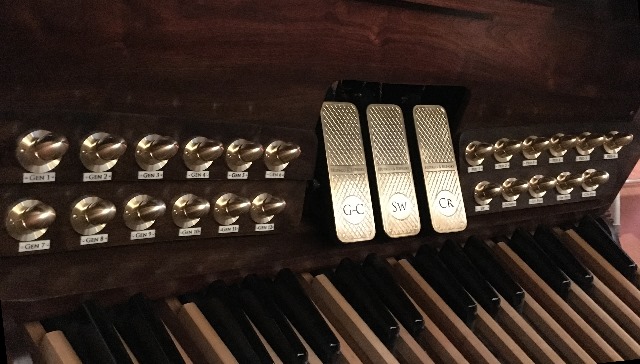 The organist also teaches and wanted to be able to use the console soley as a HW controller so students can experience different organ styles. To that end we added separate switches so that the just the console can be powered while the chamber is left off. We've also prepared a spot to tuck a computer inside the console though at present an external laptop is being used.
This organ is fully enclosed with the Great and Choir sharing a chamber, hence the expression shoe labelled G - C. The expression pedals send divisional MIDI volume/expression events as expected. The Crescendo pedal is switchable between the traditional Crescendo function and a MIDI expression pedal that is currently mapped to Master Volume in HW. The speaker system for HW is in the chambers with the pipes. The existing organ also has two digital Walker Technical Company stops.
All of the tilting tabs, drawknobs and most of the pistons send MIDI messages and can thus be used with HW. We added two additional pistions on the swell manual (far left, and far right) as well as 8 more pistons in a drawer under the right jamb for use with HW, they have no other 'native' functionality. The drawer also contains the display for the organ's control system as well as additional indicator lights and function switches. This is the first console that I've wired that includes a 'low oil' indicator. The new Ventus blower includes a level switch on the oil resevoir.
This was a complete gut and rewire job of the 50's Moller console. Practically everything was replaced. New tab rail (OSI tilting tabs), new SDKs (Syndyne) replacing the original pneumatic combination action, new keyboards (P&S), refurbished pedalboard with new contacts (Peterson), new toe pistons (Laukhuff), new control system (Classic Organ Works), etc. In the chamber all the chests and resevoirs were completely releathered and the chests were all rewired. PIpes were removed, cleaned and evaluated before being reinstalled.
It will be interesting to see how the hybrid instrument gets used and if we 'guessed right' on the features and capabilities we planned for.