I would like to share photos of how I use Hauptwerk in a classroom situation to introduce young children to the organ.
I am a trained specialist school music teacher, now in the 37th year of my teaching career. For the first 21 of those years I worked in high schools, before making the rewarding decision to move into primary schools where I now teach children from Kindergarten to Year 6.
My work involves implementing the Creative Arts (Music) Syllabus of the NSW Board of Studies. This document offers significant latitude to teachers in deciding how they will cover the syllabus concepts.
For more than 15 years I've been using small Casio keyboards in my classrooms as the basic performance medium. Through this I can explore the syllabus in an appealing hands-on fashion with students of all ability levels in classes of up to 30 students. I also employ percussion instruments, listening activities and undertake a great deal of singing work. My current workplaces are parish schools in the Catholic system, which means that singing plays an important role in school worship. I teach singing to my classes, conduct whole-school singing practice sessions, and jointly manage the music in school worship in partnership with each school's Religious Education Co-Ordinator. Often this means using prerecorded accompaniments for songs of a contemporary flavour, but as far as possible I make use of the organ, especially when accompanying singing of the parts of the Mass. The parish churches associated with my schools all possess digital instruments - one of which was recently rebuilt and refitted as a headless Hauptwerk setup to a specification drawn up by myself.
In my classrooms I have been able to introduce the organ by way of Hauptwerk, running from a MacBook Pro computer. For some time this involved using just a single MIDI keyboard, but a few years ago I decided to expand the hardware situation. I now use two Behringer UMX-61 or UMX-610 keyboards mounted on a folding keyboard stand, and for pedals I use Hammond MIDI pedalboards of either 13 or 20 notes. More recently I've created another setup using a Studio Logic MIDI pedalboard of 17 notes. Since I work part-time in each school and in every instance share the use of a learning space with other users, everything has to be dismantled and packed away at the end of the day. This rules out the use of a 32-note pedalboard. I have actually had an organ setup in my high school days involving a 32-note pedalboard connected to an array of MIDI keyboards in pre-Hauptwerk days, but back then I was working full-time in the one school and had a classroom exclusively for my own use.
At one of my schools I now have no less than 3 collapsible organs. Two involve Hauptwerk and the third is based around an old Ahlborn-Galanti sound module.
Storage has to be managed very carefully. This is a view of my "organ" storage cupboard with everything packed away. I still have some further refining of the layout to attend to - this photo shows a number of extra items which are destined to be relocated in order to further optimise the organ storage situation.
The mainstay of my classroom work is a full set of 30 Casio keyboards.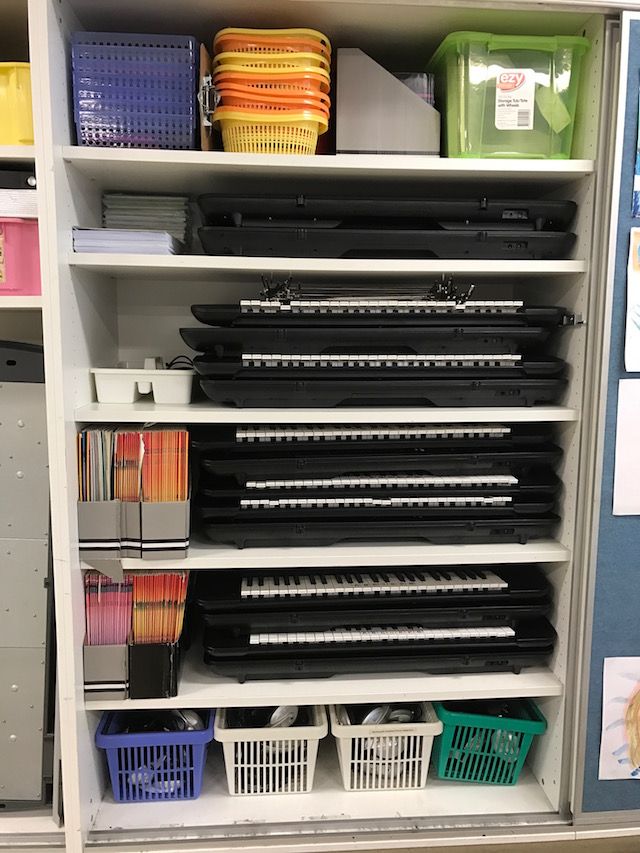 At this school I share a classroom with the Visual Arts teacher. She works on Mondays and Tuesdays, and I go there on Wednesdays and Thursdays. This is how I set up the Casio keyboards.
When set up, the 3 classroom organs look like this. It takes just a few minutes to bring each out from storage, and likewise at the end of the day to pack them away.
First - the "Red" organ - which uses two Behringer UMX-610 keyboards. It's driven by my main MacBook Pro. The Advanced licence key also holds licences for several sample sets including Hereford, Paramount 341 and the PAB Essential. The Hauptwerk software and sample sets are licenced to myself, and the hardware is all owned by me and not by the schools.
Shown here on the Red organ is St Anne's Moseley. The remote monitor is not a touch screen, but serves to allow the class to see what's happening when the organ is played. Stop control is by a single launchpad. For smaller sample sets such as Moseley and PAB Essential I have included all the stops and couplers as well as pistons plus other controls such as sequencer, master generals and recording function on the launchpad. For larger sample sets I leave out the stops and just put in as many pistons as I can. Audio is reproduced through two pairs of headphones (so two students can work together), or it can be routed through the classroom audio system which contains an inexpensive subwoofer.
The second, or "grey" organ, uses older Behringer UMX-61 keyboards. It runs through my older MacBook Pro laptop. This one also runs audio into a pair of headphones, or sound can be routed through the portable speaker shown here behind the launchpad.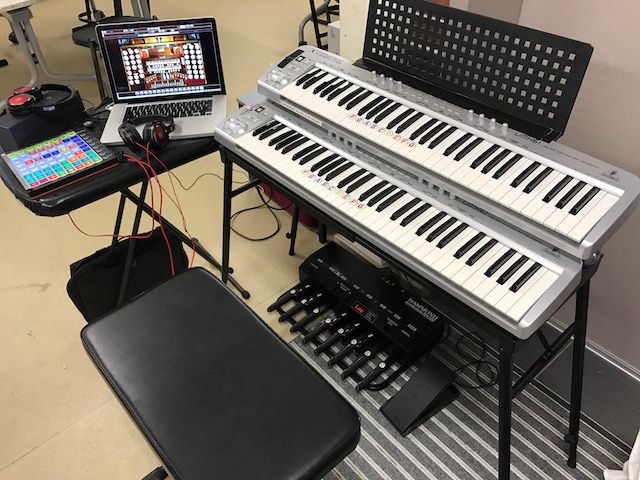 Just a few weeks ago I set up a 3rd organ by way of dusting off an old Ahlborn-Galanti 201 sound module plus a Behringer Virtualizer for reverb.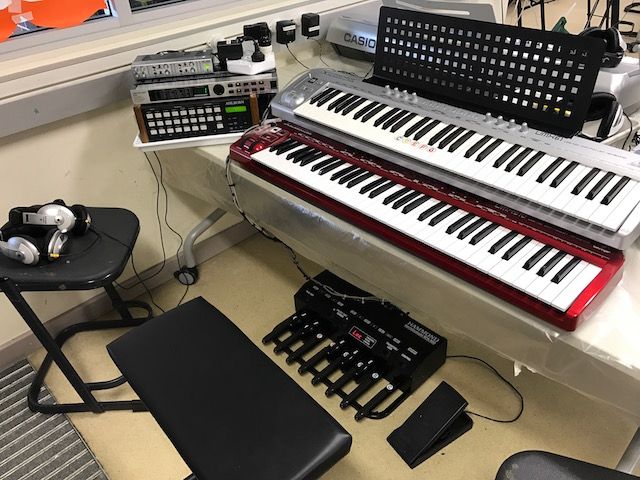 Here are some views across the room with everything set up.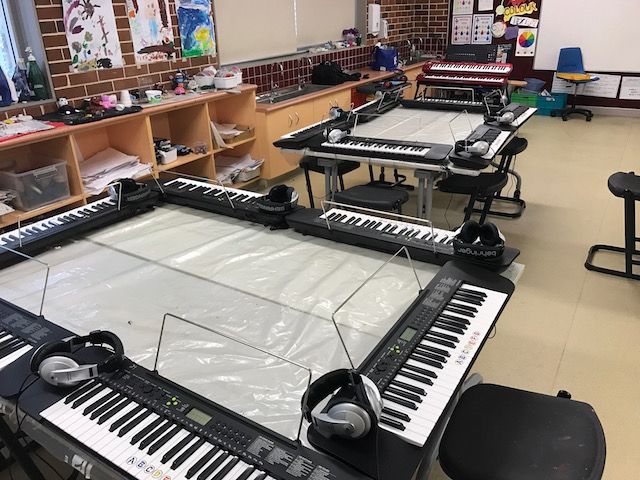 And at day's end, this is what the room looks like when all is packed away. I have classes trained up to pack the Casio instruments, and I pack the organs myself. The shared learning space is then ready to become the Art room for a couple of days.
I also have some Ped-X-Tend units from Wayne Leupold Editions Inc. Here's a view of these in place a couple of years ago when I had the 20-note pedalboard set up differently in another school.
The purpose is to give students right down to Kindergarten level the opportunity for first-hand experience of organ sounds and technique. Even just by holding a single pedal note underneath a basic keyboard melody they can experience something unique. I use teaching resources from a number of sources including an excellent series of books entitled "Progressive Method for Beginners" - several related books using common repertoire, arranged for Piano, Electronic Keyboard and Organ. I also dip into the "Discover the Organ" series from Wayne Leupold Editions. For students who have had piano lessons I use books such as Colin Hand's "One Foot at a Time" - this contains clever arrangements requiring established piano skills but adding just a couple of pedal notes here and there.
While I am clearly operating at an extremely elementary level, I believe that the experience I am providing is valuable and informative. Also, it's incredibly popular and lots of fun for the students, to the extent that I open up my classroom at recess and lunchtimes to cater for students who want more time at the instruments.
Andrew Grahame
Sydney