Hello everyone, I'm what Hauptwerkians call a newbie and this is my first post.
I am 75 years old and only came to know about Hauptwerk seven years ago when I came across an upload on U-tube of the MDA Virginia Wurlitzer. I was totally astounded and immediately took the plunge by purchasing the advanced version of Hauptwerk to try out coupled to my Technics GA3 organ. Everything went together perfectly first time of trying including convolution reverb using Reaper and Reverberate.
After a year or so I naturally wanted more! I had spent many hours in the Tower Ballroom at Blackpool and knew what I wanted; three manuals and full pedalboard. At my age I decided that lots of wiring, SAM's etc, while being ideal, was out of the question. It needed to be "plug and play" , therefore more research was needed.
Randall Mullin's Hauptwerk Experience was downloaded, printed and read several times.
However, and here I must apologise if I upset Randall Mullin and all those who enjoy their Hauptwerk this way but a three manual stack plonked on an Ikea table just didn't cut it for me! Having had the pleasure of doing so many years ago, for me there is nothing like "climbing into" a full theatre organ console which appears to wrap itself around you. So, what to do about a console? More research, this time downloading all I could from the Owen Jones website.
I wanted to try different organs, so touch screens for the stops etc was the obvious answer along with Classic Midi Works keyboards, pedalboard and expression pedals, all plug and play (more or less) so no time wasted on wiring, converting, refurbishing, etc. However, if some lovely person comes up with a sample set of that Tower Ballroom Wurlitzer itself along with some impulse responses of that ballroom then maybe the touch screens would go and be replaced by CMW lighted rocker tabs. Ah well, we can dream can't we?
So, the console would have to be scratch built. I started at the bottom and worked up having learned a lot from Owen Jones. The result is as you can see having taken me 11 months to build. The similarity to a certain previously mentioned console may be noticed but the curvy bits on top of the side jambs was beyond me! The build would have been 4 months quicker but I had a little argument with a circular power saw early on and unfortunately removed the ring and little finger from my left hand. I recall shouting several hundred words which roughly translated meant "oh dear me" and called an ambulance having jambed the fingers back and getting my dear wife to bind me up. I told the surgeon that I liked playing the organ and really needed all my fingers. He said he would see what he could do and nine hours of surgery later all was back in place. The two fingers in question are now at 90%. I for one have no complaints about our National Health service.
[img]
[/img]
The second picture shows the fake row of stop tabs which is really a handle to open the drawer housing the computer keyboard and mouse.
[img]
[/img]
The third picture shows the modular sections all neatly stacked ready for assembly. (Here the younger generation would write L.O.L. but in my case I think N.L.O.L - M.L.I.C. would be better. (not laugh out loud - more like insane cackle.) However, the console can be disassembled in about 30 minutes and reassembled in about 45 minutes (on a good day). Otherwise, it can't be moved! (more N.L.O.L. - M.L.I.C.)
[img]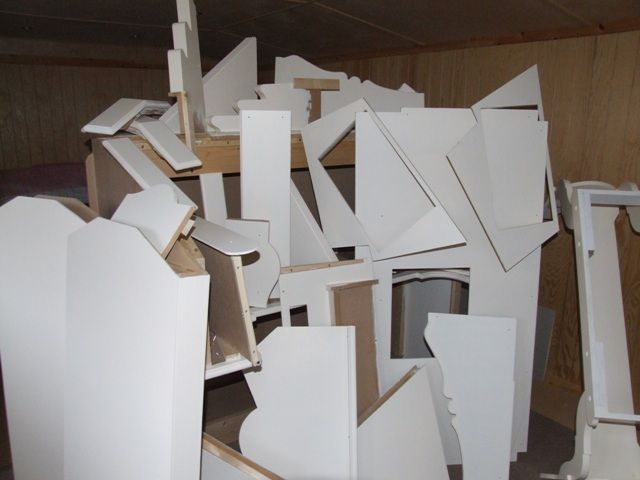 [/img]
That's it
Roger