Hello all,
OrganArt Media is pleased to announce the
completely new surround production
of the
1731 Gottfried Silbermann organ of Reinhardtsgrimma/Saxony
, 15 years after the first HW1-release (one of the first instruments for Hauptwerk ever).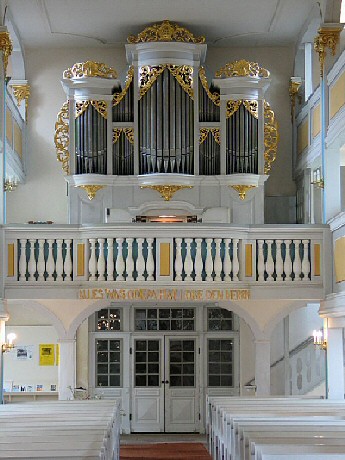 This instrument has the typical uniform Gottfried Silbermann disposition of a medium sized village church organ with two manuals, pedal and 20 stops without reed stops in the manuals.
Typical G. Silbermann organ characteristics are full and warm 8' Principals, bright super-octave registers 4', 2' and 1', strong and sharp aliquots such as 1 1/2 'and 3', characteristic expressive registers are Rohrflöte 8', Quintadena 8' and Spitzflöte 4'. The octave-accented Plenum sound is extremely powerful and triumphant.
The instrument, restored in 1997 by the Silbermann specialist Kristian Wegscheider / Dresden, is today considered one of the most appreciated instruments of this type.
The church of Reinhardtsgrimma has a maximum reverberation time of 2 seconds and thus creates a great clarity for polyphonic lines. Helmut Walcha loved this instrument.
A lot of live played sound demos is already available on the
ConcertHall
site
Please search "Reinhardtsgrimme Surround"
For details about the instrument and its specification please check
Sibermann Specification
Due to its relatively dry acoustics and the expandable manual and pedal compasses, the set is also
excellently suited as an exercise instrument
. The entire Bach work can be played on it.
Recording:
48 kHz, 24 bit, multi-channel for Surround/Vario Audio Perspective (VAP), The stops were recorded with multiple release levels for short, medium and long key attacks for optimal acoustical mapping.
All ranks were additionally recorded with the original tremulant sound.
Memory requirements:
Standard 3,3 GByte only (Surround, 16-bit compressed)
up to 6,1 GByte (24-bit compressed)
Special introductory prices by 28. May 2018
(Download 6,8 GByte):
-
New customers: 295.- Euro only
, (outside EU: 247.90 Euro), 345.- Euro afterwards
-
Owner of HW2/3 version: 175.- Euro only
, (outside EU: 147.06 Euro)
We would be happy to receive your order again!
ATTENTION:
The OAM office is vacant from May 4th to May 22nd. Your orders will be accepted and shipping will take place in week 21/22.
Quick orders (downloads) will be processed before May 4th