Member
Posts: 1128
Joined: Wed Jan 06, 2010 7:53 am
Location: La Rochelle, France
Tue Mar 31, 2020 12:13 pm
Hi all,
I've recently downloaded the Serina organ as a first personal step to Italian organs. Not surprisingly, I'm a bit lost when it comes to registration, since the organs in the peninsula are built in a somewhat different way from the 'northern' instruments... I understand the concept of split stops - the same did exist in Spain and did also exist in France till the 17th century if not mistaken - yet rather than that, I don't know how to proceed.
Here below a screenshot of the registration panel -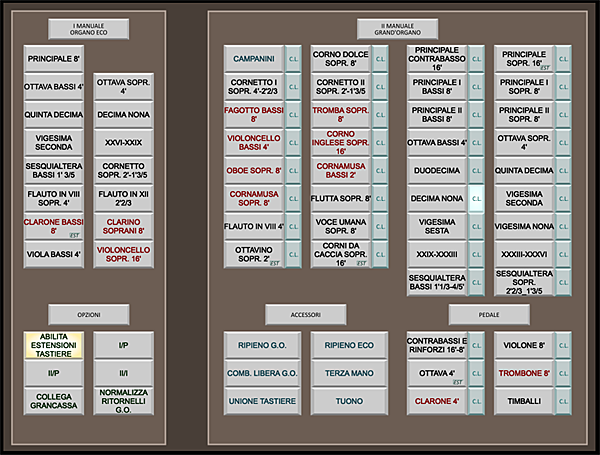 On 'Manuale I' I understand the concept of 'Bassi' and 'Soprani' which is equivalent of 'Basse' and 'Dessus' in the French classic organs. I do not understand what 'XXVI-XXIX' correponds to beside the fact there are Roman numerals standing for '26-29'. Other stops on the Great Organ have similar Roman numeral stop names.
On 'Manuale II' I don't understand why all the stops have this 'C.L.' mention that can be clicked - drawn - independently or together with the stop itself. I do not feel any difference when clicked or not.
On the 'Pedale', same point for the 'C.L.'.
Beside these generic questions, I have a more specific one. I have a music sheet with the below organ registration suggestion -

Does anyone know which stops to useon the Serina organ to be as close as possible to this recommendation?
Thanks in advance for any tip / suggestion and sorry I am so illiterate when it comes to Italian organs...
Last edited by
pat17
on Tue Mar 31, 2020 4:10 pm, edited 1 time in total.