Member
Posts: 937
Joined: Fri Nov 06, 2009 11:51 pm
Location: Sydney, Australia
Fri Mar 07, 2014 5:21 am
All four manuals are on now. The Swell pistons are not yet operating because I've run out of ribbon cable and connectors so the E-Keys unit for the Swell isn't yet wired up. However the other three are fully operational and tested, including the sequencer "plus" pistons. As mentioned earlier, all 8 "plus" pistons are wired in parallel, and they are connected back up to the Solo piston rail because it's in that rail that the input actually gets MIDIfied.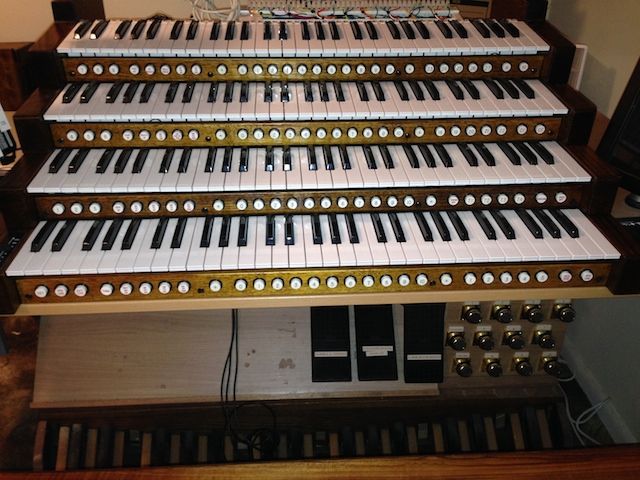 Here are the shots of the left and right sections of the Solo (with Swell also in view). On the left, the group of three are further generals, and the five red pistons are more couplers and reversibles. On the right there are the final five generals (total of 27). There are 8 more generals (10 to 17) in the 5th rail. The two pistons to the far right (S1 and S2) are for keyboard "swapping". There are two more (S3 and S4) in the 5th rail.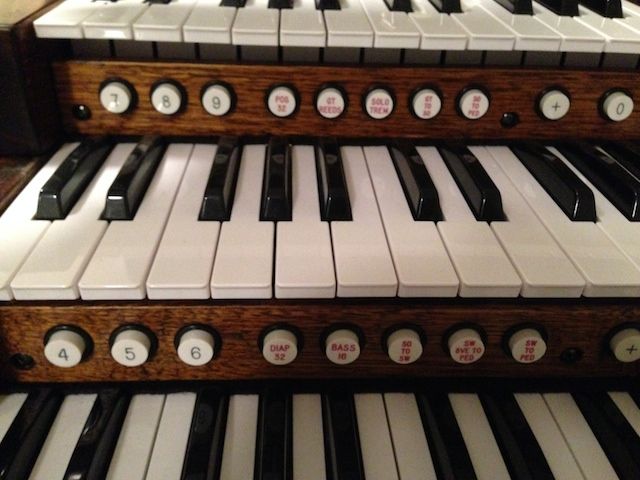 Bear in mind that this massively generous piston layout was devised before I discovered launchpads, in response to my dislike of touch screens. I wanted to create a console which minimised as far as possible the need to touch the screens while playing. Now that I have launchpads to give tactile stop control I have the best of both worlds. My console plan originally aimed for five manuals, but when reason prevailed and I cut the fifth keyboard from the plan I decided to retain its piston rail and mount it above the Solo, after the fashion of some English cathedral organ consoles.
No more work happening for a while due to the mundane reality of the day job. However you may wish to tune in to my next broadcast. I am the voice on radio for the Organ Music Society of Sydney as programmer/presenter of their monthly radio show "Colours of the King". The broadcast takes place from 5 until 6 pm (Sydney time) on Fine Music 102.5 FM in Sydney on the second Saturday of each month. The broadcast also streams live to the internet from
http://www.finemusicfm.com
. The March broadcast will take place tomorrow.
Andrew