Thu Feb 25, 2021 11:41 am
I am now purchasing a new concert organ for my home - something I thought I would probably never do. I have been extremely happy with my Rodgers 945 which I purchased new in 1991. Not only is it marvelous digital organ with a complete three-manual American Classic specification, but it has been the ideal organ for controlling Hauptwerk.
Then I saw an ad for a large four-manual custom Rodgers of the same vintage in my local dealer's newsletter during the pandemic...
Buying an organ during the pandemic presents the same problems as buying just about anything else. I could not go to a nice organ showroom and try it out under ideal conditions. In fact, the dealer had closed down his showroom and moved all his inventory to storage. He is still doing a very good business selling organs from storage. However, this one is just too big for most of the market. Here is a photo: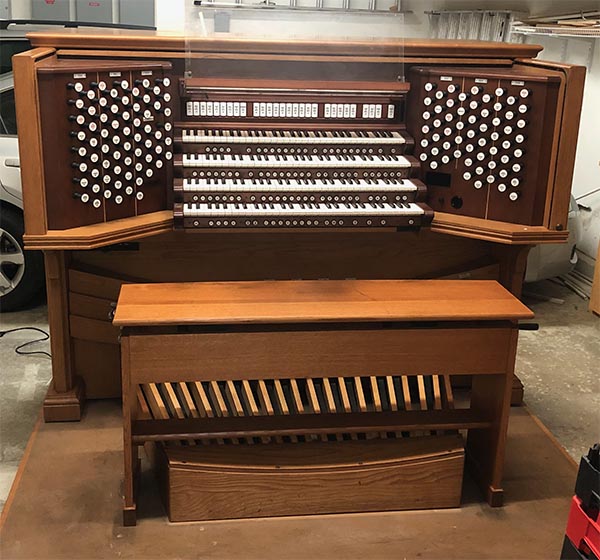 In order to try out the organ, we moved it into my garage. It is too large to fit through any existing door in my home! After a series of tests, I made an offer and it was accepted. The organ remains in the garage while my wife and I are taking bids on enlarging our front door! Luckily, the frame was built for a double door. The builder, however, placed a single door in the center flanked by fixed panels. We will have these removed and a proper double door installed. The organ will then pass through the door and into our living room where it will be connected to our existing Rodgers speaker system.
At the moment, I can only play eight of its 24 audio channels at a time in the garage! Its enough for testing, but not for actual playing. Fortunately, I have moved one of my Mac Mini computers to the garage and configured a full Hauptwerk system for the organ. I can play it completely as a Hauptwerk organ in the garage.
Here is a video I recorded as a demonstration:
https://www.youtube.com/watch?v=ol9K_axxAa8
The music in the video is a new transcription of mine. As usual, you can find the sheet music on my web site:
http://www.nightbloomingjazzmen.com/Les_Sheet_Music.html
This organ was built by Rodgers in 1995 as a hybrid pipe electronic combination for a Los Angeles area church. It has the typical American manual divisions, plus two floating divisions that controlled pipes: Positiv and Bombarde. I have a long spec sheet that was assembled for the contract in 1995 - which I converted into a 1990s-style Rodgers spec sheet:
http://www.nightbloomingjazzmen.com/NBJ_Organ/Rodgers_Custom_4M_Brochure.pdf
I'll update you as I configure the audio system and move the console into the house. I will also let you know when my 945 will be available for sale. I will be selling it on consignment through the same dealer.
Les